Who knew that doing blackface was such a "fun" activity for Democrats?
We've got Gov. Northam in it (or as a Klansman); his attorney general admitting to doing it to look like Michael Jackson.
Ted Danson did it in 1993: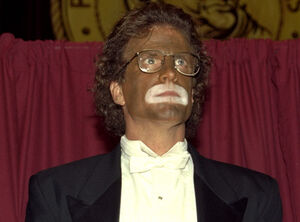 He said it was a tribute to Whoopi Goldberg.
And now you have the Queen of Mean on the View – everyone's "favorite" liberal doyenne of what we peasants can and cannot do – Joy Behar admitting she's done it, too!
On Twitter Jon Levine said, "Joy Behar admitted during a taping of The View in 2016 to dressing as a "beautiful African women" at a Halloween party when she was 29 which involved makeup "that was a little bit darker than my skin"
You see, when it's a liberal, it's not doing blackface, it's using makeup to darken the skin. The NYT headlined the story about the AG as "Virginia Attorney General Says He Also Dressed in Dark Makeup." It's just makeup, so that's OK, according to them.
Blogger Matt Walsh tweeted, "Megyn Kelly was fired from her show for asking a hypothetical question about blackface. Joy Behar actually wore blackface, and admitted it, and showed a picture of it on TV, yet she still has her job."