On twitter, a writer named Steve Guest had a thread in answer to this weekend's news cluster bash of Trump and the Coronavirus.
Here's the thread:
NBC's Chuck Todd is misleading the American people.
It's Democrats & the MSM who are politicizing coronavirus, not Republicans.
So @chucktodd, you asked for it, I'll name some names of Democrats and the media who are trying to score political points with coronavirus.
From the beginning, @GOPChairwoman and @DonaldJTrumpJrhave been calling out the Democrats for politicizing coronavirus.
Example: Schumer & Warren have falsely accused the president of having no plan, despite CDC having a 52-page planned response.
Michael Bloomberg purchased 3 minutes of commercial air time on CBS and NBC to run an ad for his campaign about coronavirus.
Reminder: A month ago, President Trump issued travel restrictions for people coming from China.
That's the preparedness @realDonaldTrump has brought.
Regarding the media, Politico is publishing false stories about President Trump.
Reminder: President Trump did not call coronavirus a hoax.
The New York Times published this bonkers headline: "Let's Call It Trumpvirus."
Not subtle at all in their attempt to link coronavirus to Trump.
The subhead: "If you're feeling awful, you know who to blame."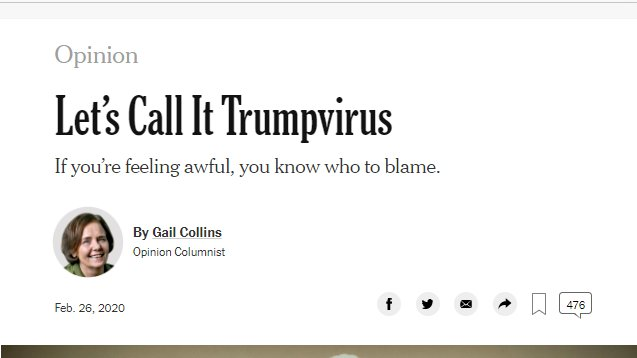 The New York Times also published this disgusting headline: "Trump Makes Us Ill."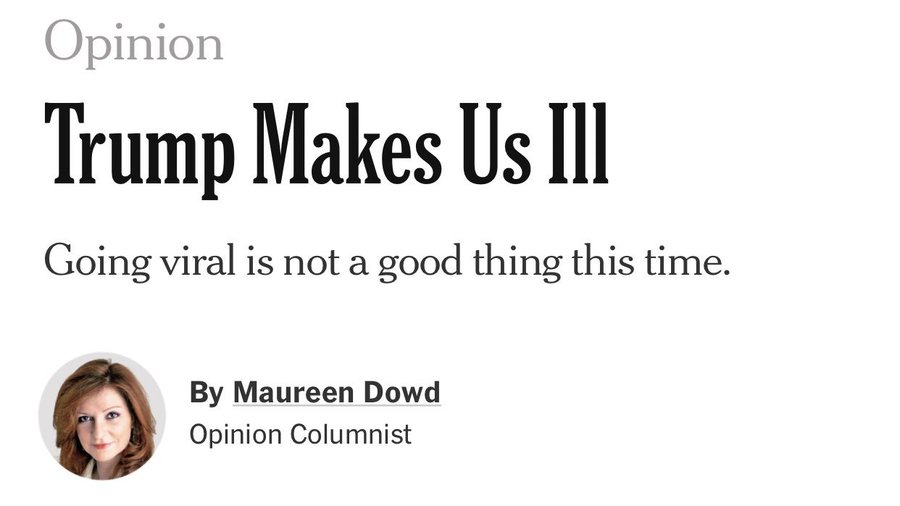 Not to be left out, The Washington Post has published this unhinged article.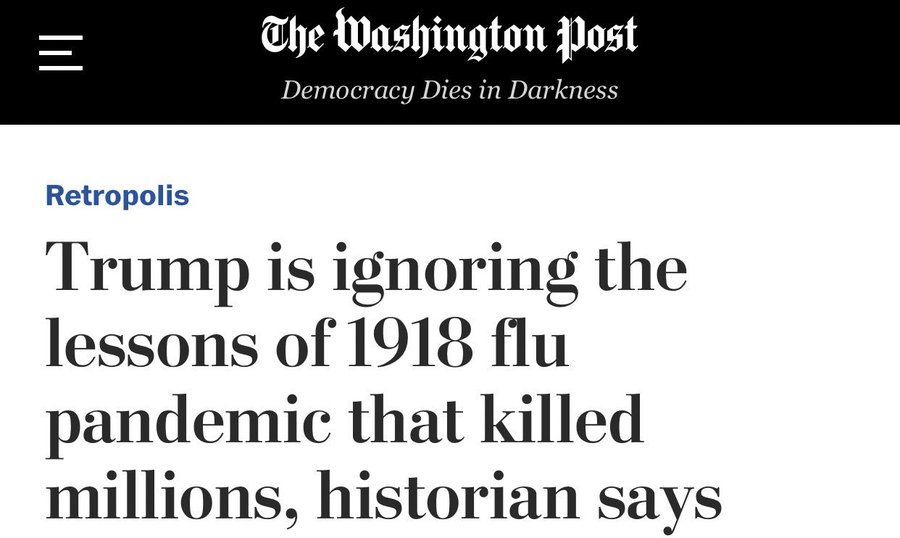 Back to Democrat politicians…
Joe Biden is lying about the Trump administration's response to coronavirus.
No officials were muzzled.
@FrancisBrennan
Joe Biden just touted the debunked talking point that President Trump had muzzled Doctor Fauci form discussing the coronavirus.
This is what Fauci had to say about that claim yesterday:
"I've never been muzzled ever and I've been doing this since…Reagan."
Earlier this week, Michael Bloomberg and Joe Biden were called out by the AP for lying about President Trump cutting funding to the CDC and NIH.
The facts from the Associated Press: Financing has increased to the CDC and the NIH.
Here are a couple examples of people wanting to infect @realDonaldTrump
and his supporters with coronavirus.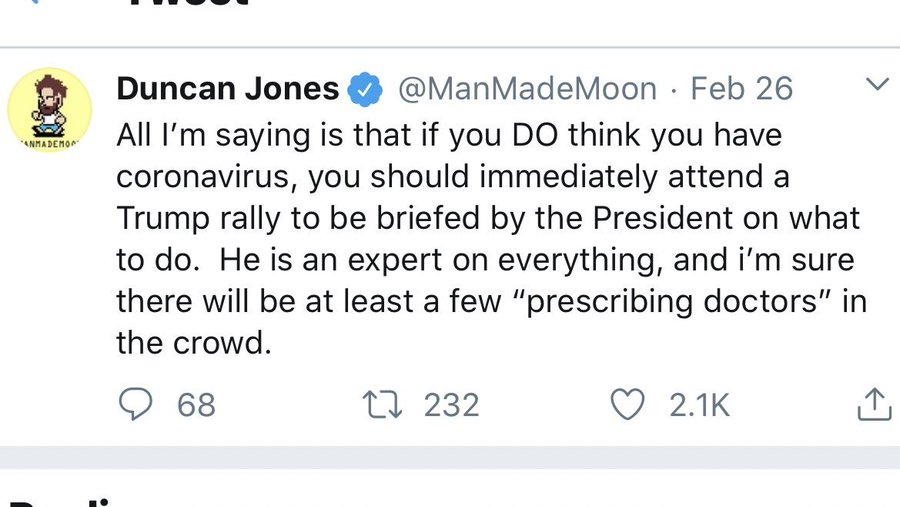 Here are Democrat Rep. John Garamendi's threatening remarks about @DonaldJTrumpJr: "He shouldn't be near… There would be a serious altercation… Don Jr. better not get any place close to me. It would not be a healthy situation."
No pushback from MSNBC.
Back to my thread of naming names of Democrats who are politicizing coronavirus.
Democrat Rep. Ted Lieu perpetuated the false "hoax" narrative to the tune of 45,000 likes on Twitter.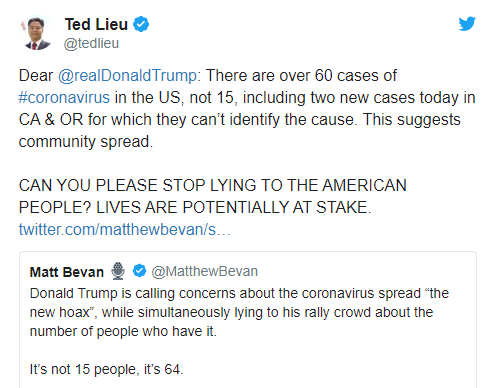 Another example of Michael Bloomberg with a clear political motivation behind his coronavirus response.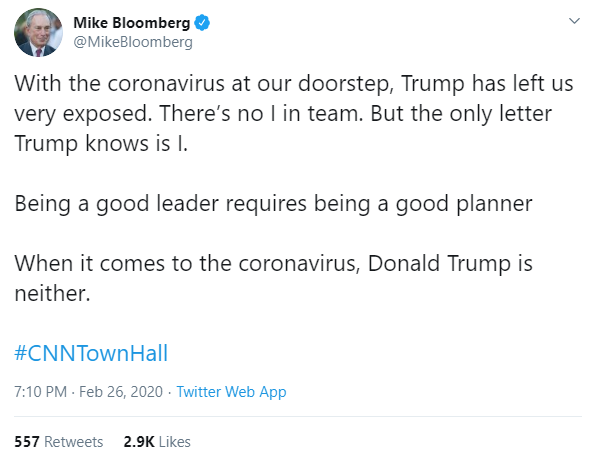 Furthermore, on CNN, their coverage of coronavirus has been devoted to Trump bashing.
STUDY: Trump-Bashing Takes up Majority of CNN's Coronavirus Coverage (Newsbusters)
Another example of Michael Bloomberg trying to score political points by repeating false info.
Michael Bloomberg repeated the false claim that President Trump referred to the coronavirus as a "hoax."
CBS News' Scott Pelley pointed out that President Trump actually said the media & Democrat hysteria about the government coronavirus response was a hoax, NOT the virus.
12h
And here's The New York Times' Edward Wong at it too.
The @nytimes's "Diplomatic Correspondent" just went on CBS's Face The Nation and spread the blatantly false narrative that @realDonaldTrump called coronavirus a "new hoax by the Democrats."
REMINDER: President Trump did not call coronavirus a hoax.