It was obvious to anyone with at least moderately active brain cells that the protests from two weeks ago would blossom into an increase in Covid 19 cases.
If you believe what the "experts" tell us, walking close to one another without masks was not a safe way to avoid the coronavirus. Haven't we been told that social distancing is the way to go for months?
So when I read this headline at the Daily Memphian – "Recent spike in COVID-19 cases not linked to protests or Memorial Day" – I found it hard to believe.
But not surprising.
Democrats and the media, but I repeat myself, have a big interest in keeping us house bound til after the election. They want the economy to tank and for us to blame it on Trump and they want to keep as many of us conservatives away from the polls as possible on November 3. They also want a reason to push for mail in ballots, which can easily be manipulated into fake votes for their candidates.
The story says:
"Moving to Phase 2 of the Back to Business Plan, a decrease in mask usage and warmer weather are several factors behind the recent spike of COVID-19 cases, Alisa Haushalter, Shelby County Health Department director, said Tuesday.
"Notably, Haushalter said the increase in coronavirus cases is not linked to recent protests against police brutality or gatherings on Memorial Day weekend. The increase in community transmission means Shelby County will remain in Phase 2 for the unforeseeable future, Haushalter said."
Then it continues, "Haushalter and other officials continue to emphasize the importance of citizens wearing masks – citing that as a key factor in reversing the trend of positive cases. They also encourage citizens to social distance and wash their hands for at least 20 seconds or use hand sanitizer to slow the virus' spread…Over the past eight days, Shelby County recorded its three highest day-over-day increases since the pandemic began locally in March. Saturday's report of 385 new cases from the health department being the high point."
Seems rather contradictory; a call for social distancing and mask wearing, but that didn't include the protests.
Contrast that with the report from Houston.
Newsweek headlines, "Houston Protesters Begin to Fall Ill With Coronavirus After Marching for George Floyd."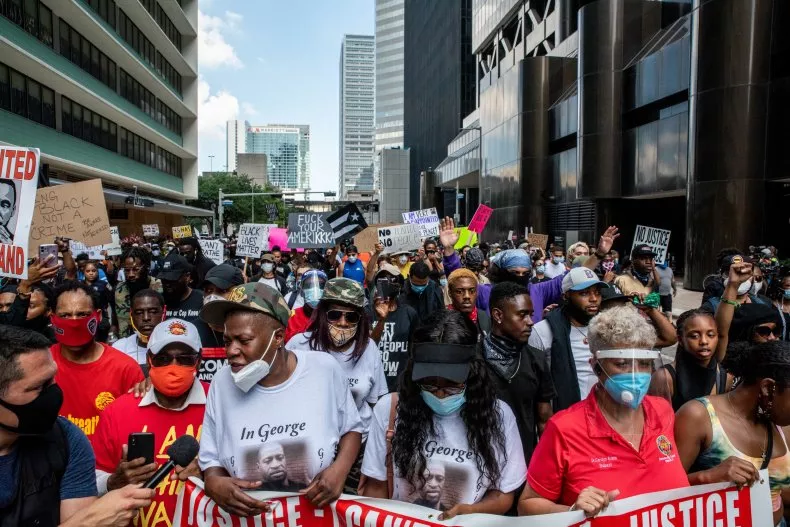 "Large protests began in the city days after the death of Houston native Floyd, an unarmed black man who died while police custody in Minneapolis, Minnesota on May 25. Texas has been experiencing a surge of new COVID-19 cases. Harris County, which encompasses Houston, has been adding hundreds of new cases each day to the more than 17,000 total confirmed cases reported as of Monday.
"Houston police reported an uptick in cases after the protests began, with at least 23 officers testing positive since June 6, according to The Houston Chronicle."
Now which version sounds the most logical?