I'm not Karnack or Jeanne Dixon, but I can make some predictions today that will be 100% true.
The GOP convention this week will be a flop. It will be divisive, dull and overflowing with Trump's ego.
Joe Biden has won all the debates. He will be clearly in his right mind, dynamic and empathetic. Trump will come off badly and be a liar in all his statements.
Biden will be ahead in the polls from now on. Not just neck and neck, but maybe even ten points ahead at times.
Biden will have people in his cabinet possibilities who will understand Washington, D.C., and international relations in a way that bombastic Trump never will.
I didn't say these were true, by the way; this is what you'll be hearing night and day until November 3 from the media.
Now and particularly after Labor Day, strap yourselves in for a full time media assault on Trump and the Republicans. The media and the Democrats, one and the same, will throw everything they can at him.
Even now, they are picking at every move he and his family make.
Melania recently redid the White House rose garden. Of course, she failed. That is, according to the media. She has been lashed every which way for making a few improvements. Melania announced that "The renovations in the half-acre verdant expanse — which is about 125 feet long and 60 feet wide – will include electrical upgrades for TV appearances, a new walkway and new flowers and shrubs, according to The Times…plans to make the garden more resemble the original design of the site established by President John F. Kennedy, and implemented in 1962 by philanthropist and horticulturist Rachel "Bunny" Mellon."
What's the result? Michael Beschloss tweeted this picture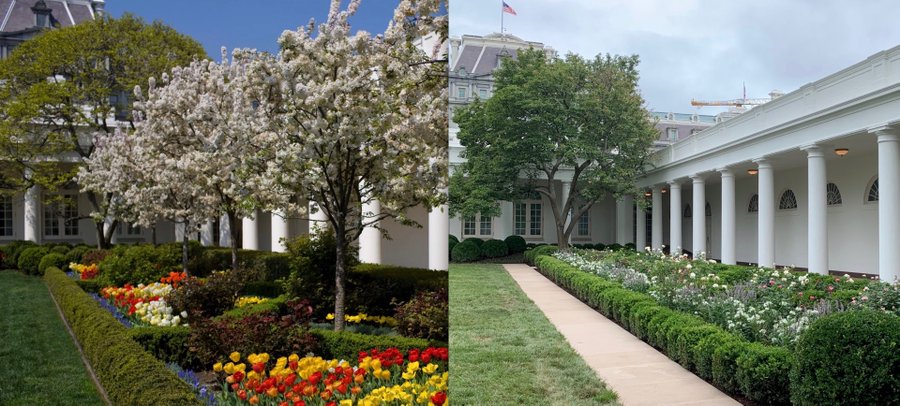 Immediately, people complained about the flowers. Obviously the one on the left was taken in the spring when tulips bloom. They do not bloom in August. The trees were cut down because they blocked the view. Probably photographers complained about them.
Others saw a KKK emblem in the design of the bushes. It's a design that was there during the Obama administration and planned by Mrs. Kennedy.
Then there was this: "I still find it unbelievable that @FLOTUS who has only been a citizen since the middle of GW Bush's second term had the audacity to wreck the Rose Garden, to pull up history dating back a lifetime. These trashy, evil, stupid people need to get out of our house. What GALL she has.
— Kurt Eichenwald (@kurteichenwald) August 22, 2020"
Is this going high when Republicans go low? Ad hominem attacks? It's a Democrat staple.
Vicious as this is, it will be mild compared to what we will have to endure til November 3 and probably after.
As Conrad Black explained in the New York Sun, this "Election Emerges As Titanic Battle Of Press v. Trump" (https://www.nysun.com/national/election-is-emerging-as-titanic-battle-of/91227/).
He writes:
This is a decisive election in terms of the legitimacy of its methods and the ability to resist press manipulation. This is even before we get to the determination of important policy matters. The defeat of a rather successful president by an incompetent rival carried to the goal line by corrupt media, would produce the greatest crisis American democracy has faced since the Great Depression and Roosevelt, if not the Civil War and Lincoln. The forces of righteous discernment should be heard from as soon as the public focuses on the election which is normally shortly after Labor Day. What we have now is a dangerous and fraudulent levitation.
Biden is a non entity so the press wants to cement their power to sway. It's a very evil and terrible thing to do. We have to make them lose and pay the price.