America is at a crossroads. Sidney Powell has rightly characterized the next two months as the most important in the history of America.
Fair minded, Constitution loving Americans understand that. That is why so many hundreds of thousands gathered yesterday for the Million MAGA March.
It was amazing. Consider that everyone there had to pay their own way. They had to leave family and businesses, arrange their own travel plans and find their own accommodation. No group like Antifa or BLM organized it for them.
It happened in a week, too. A week is not a long time for people to get so well organized. Yet somehow patriots managed.
It was also a brave thing to do. Everyone attending had to know that they could be prey for Antifa and BLM.
Sadly, many of them were as it turns out.
I followed one person's experience via Twitter. Dr. Taylor Marshall has a popular YouTube channel and was asked to say a prayer when the group reached the Supreme Court. He took his young son with him.
Here's a picture he sent from the march of the two of them:
He left from Texas and tweeted, "It seems entire flight is boarded by MAGA-Trump people!!! Everyone going to the Trump Rally."
Marshall and his son stayed at the iconic Willard Hotel. He commented, "think everyone staying in my Washington DC hotel is wearing #MAGA gear!" He was aghast, however, to see that the stores in the neighborhood had been boarded up. Even the hotel door. "I don't think it's for the MAGA people…we'll be singing and praying and waving our flags."
When he got to the march, Marshall saw the president go by – an exciting moment for the crowd.
He got to meet My Pillow's Mike Lindell, who gave an impassioned speech at the rally.
Marshall gave his prayer at the Supreme Court building. The crowd was bigger than most expected.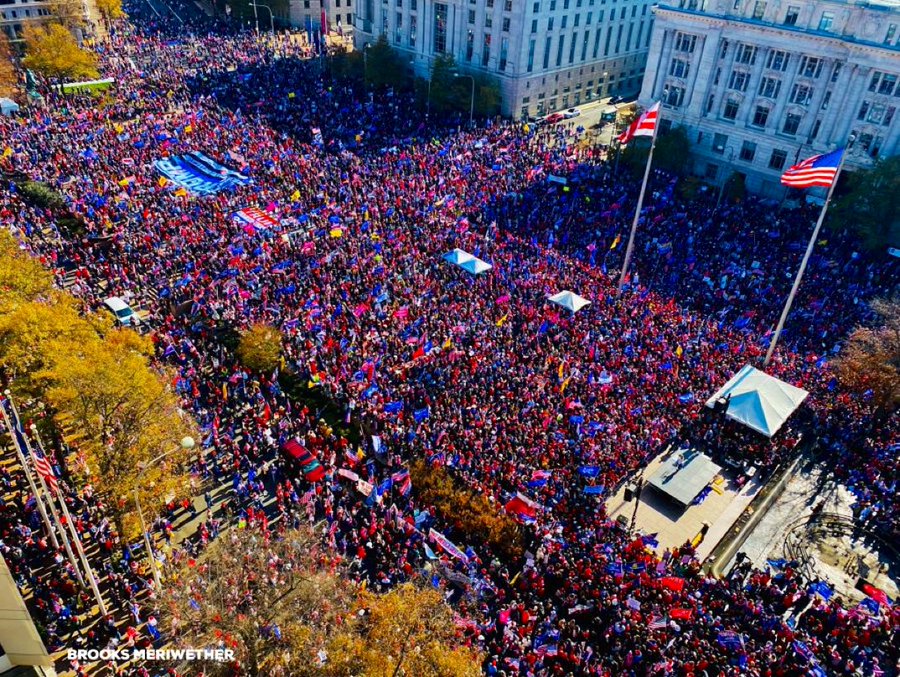 Marshall said he wished he had brought food and water. It was difficult to find in the enormous crowd.
Then, as the rally wound down, Antifa people began to attack those on the perimeter.
Jack Posobiec, a friend of his and OAN reporter, tweeted, "Antifa, a domestic terrorist group, just marched right down the street in front of the FBI building. Like a sick joke." Evidently there were attacks at the Willard Hotel.
"Won't be going to Willard Hotel tonight…"
However, things must have wound down enough because Dr. Marshall tweeted, "I'm back in my Wash DC hotel safely. It's dangerous out there!!!! Antifa is a terrorist organization. Our Capitol shouldn't be a Third World Country. An Anti-Antifa group of 100 people just marched passed our hotel window. Crazy in DC!"
Posobiec said, "Antifa attacked children tonight in the streets of our nation's capital and set fire to Freedom Plaza but 'extremism journalists' are more worried about 4chan memes."
President Trump commented, "ANTIFA SCUM ran for the hills today when they tried attacking the people at the Trump Rally, because those people aggressively fought back. Antifa waited until tonight, when 99% were gone, to attack innocent #MAGA People. DC Police, get going — do your job and don't hold back!!!"
Post rally Marshall sent out a video. "I'm so encouraged. Met so many good people. I'm encouraged for Donald Trump. Yes, I'm still positive. Yes, I think he's going to win."