Where are the big talking, Constitution (supposedly) loving Republican senators? People like Ted Cruz, Rand Paul, Rob Johnson, Rick Scott, Tommy Tuberville et al? When it comes to the fraudulent election, do we have to call out an APB on them? They have been shunning the limelight, something senators usually run to like flies to well, you know.
While 140 Republican Congress members appear ready to challenge electors, only one senator, Josh Hawley, has shown himself to be a champion of the people. Is it because Mitch McConnell is working against Trump? Yesterday McConnell held a phone conference, evidently to discourage anyone thinking of straying from Biden becoming president. Hawley skipped the call. Is McConnell threatening to take away committee chairmanships for those who dare to join Hawley?
Why aren't Loeffler and Perdue, whose senate seats are up in Georgia, joined the fight and been vocal? What is holding them back? Trump has gone all out for them and they return the favor with indifference.
Do these dopey GOPers think that they will have a better chance at reelection under a Biden (or should I say Harris presidency as Sleepy Joe does) administration because of voter backlash? If so, they have not come to grips with the idea of future Dominion stolen elections. Or are they part of it?
Is Mitch McConnell subservient to the Chinese? His wife, Elaine Chao, has a sister named Angela who is married to a billionaire venture capitalist, Jim Breyer. Breyer happens to be very close with CCP chairman Xi Jinping.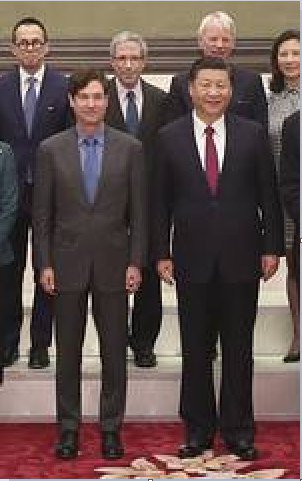 Not only that, but other family members feed at the Chinese trough, too. The New York Times found "she and her husband, Senate Majority Leader Mitch McConnell, have received millions in gifts from Chao's father, who used to run the company, along with political donations from her family. Chao, according to the report, has boosted the company in China, whose government runs a bank that has loan commitments from the shipping company in the order of 'hundreds of millions of dollars.'
"The report said in addition to the shipping company, Chao's family has other ties to official China, including board positions in state companies and a close relationship between Chao's father and former Chinese President and Chinese Communist Party General Secretary Jiang Zemin."
Even so, will none of the other Republican senators stand up for Trump and the American voters? In Tennessee, Congress members Mark Green and newly elected Diana Harshbarger have agreed to contest the electors. I don't know about David Kustoff.
Newly elected Senator Bill Haggerty owes his win to Trump. He edged out Dr. Manny by claiming to be Trumpier than Dr. Manny in the primary. He even had Trump's endorsement. What a turncoat!
Marsha Blackburn should be on board, too. She knows what's at stake.
Here's the contact information for her:
Government Website: blackburn.senate.gov
Contact\Email: blackburn.senate.gov/contact_marsha
Official Website: marshablackburn.com
YouTube: youtube.com/channel/UCvNnmu5mUm7xr8QXBlbtQ9w
Facebook: facebook.com/marshablackburn
Twitter: twitter.com/MarshaBlackburn
Haggerty does not appear to have a Senate address yet, but here's what he has:
Campaign Website: teamhagerty.com
YouTube: youtube.com/channel/UCoFmbd_zEYeZQbn6Qag0b-A
Facebook: facebook.com/BillHagertyTN
Twitter: twitter.com/billhagertyTN
Instagram: instagram.com/billhagertyTN
For Kustoff here's his Memphis office:
5900 Poplar Ave.
Suite 202
Memphis, TN 38119
Phone: (901) 682-4422
Fax: (901) 682-8973
And his DC office:
523 Cannon House Office Building
Washington, DC 20515
Phone: (202) 225-4714